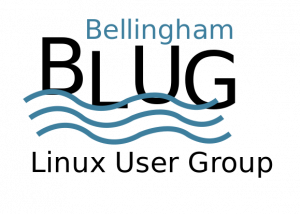 BLUG was started in 1998 by a small group of computer geeks in Bellingham, Washington who wanted to get off Windows and learn from local Unix gurus.  Our focus is on Linux and all Open Source software.
We hold a presentation meeting the first Thursday of the month at Bellingham Technical College in Campus Center room 201 (CC201). On the second Thursday we hold an informal organization meeting with the time and location announced on our mailing list. We also put on special events including the regional LinuxFest Northwest in the Spring.
BLUG Holiday Party
01/03/2019 at 06:30 PM
Just when you thought the holidays we're over, we have decided to extend them a few more days!
Please join us this Thursday, January 3rd, from 6:30p to 9p, for a get-together at:
Goat Mountain Pizza Company
211 W. Holly Street
Bellingham, WA
(360)510-6336
https://goo.gl/maps/XWbBf7bVwDz
We'll supply the pizza and drinks, you supply the cameraderie; just let them know you're with BLUG. Hope to see you there!