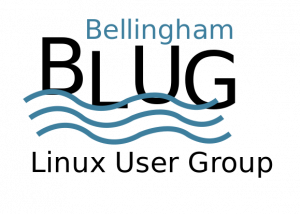 BLUG was started in 1998 by a small group of computer geeks in Bellingham, Washington who wanted to get off Windows and learn from local Unix gurus.  Our focus is on Linux and all Open Source software.
We hold a presentation meeting the first Thursday of the month at Bellingham Technical College in Campus Center room 201 (CC201). On the second Thursday we hold an informal organization meeting with the time and location announced on our mailing list. We also put on special events including the regional LinuxFest Northwest in the Spring.
(virtual)BLUG meeting 11/4: Kat Morgan – Agility in the HomeLab, Declarative Infrastructure at Home
11/04/2021 at 06:30 PM
Meeting Includes…
BLUG/LFNW & Linux News, Q&A, and a presentation by Kat Morgan.
Kat's Presentation:

This is a 102 level presentation where understanding of basic fedora/ubuntu installation and ssh abilities should suffice for duplicating success with the material shared. I will bring plenty to talk about. Technical level of depth into the technology stacks used will be audience lead.
Technologies included will be:
Fedora 34
Ubuntu 21.10
Docker
Ansible
Helm
Kubernetes
KubeVirt (Virtual machines on Kubernetes)
VyOS (Linux Router/Firewall Distribution)
SSH
RDP
VLAN
Looking forward to it!
Online meeting!
While we continue to social distance, we'll meet online. Meet us at 6:30pm for news/help/chat, or 7pm for the main presentation via Zoom:
https://konghq.zoom.us/j/97609664398
Meeting ID: 976 0966 4398