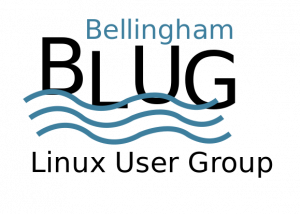 BLUG was started in 1998 by a small group of computer geeks in Bellingham, Washington who wanted to get off Windows and learn from local Unix gurus.  Our focus is on Linux and all Open Source software.
We hold a presentation meeting the first Thursday of the month at Bellingham Technical College in Campus Center room 201 (CC201). On the second Thursday we hold an informal organization meeting with the time and location announced on our mailing list. We also put on special events including the regional LinuxFest Northwest in the Spring.
(virtual) BLUG meeting 10/1 7PM: Michael Gan & Garth Johnson – Pine STEM project
10/01/2020 at 07:00 PM
Join the Bellingham Linux Users Group as we meet on October 1st at 7pm featuring TAGNW's presentation of "Whatcom STEM + Pine = Pine STEM". Michael Gan and Garth Johnson will provide an update on the Whatcom STEM Network and highlight the Pine STEM project in development. Pine STEM is a collaboration of Pine, Manjaro, and TAGNW to create a STEM OS, community, and educational projects for Pine devices. For more information about Pine and Manjaro, please see their websites:
Pine: https://www.pine64.org
Manjaro: https://www.manjaro.org
About Whatcom STEM and Technology Alliance Group for Northwest Washington (TAGNW):
Whatcom STEM is an alliance of businesses, education institutions, nonprofit organizations, and local government with the collective mission to strengthen STEM education (science, technology, engineering, and mathematics) and Career Connected Learning in Whatcom County. Technology Alliance Group for Northwest Washington (TAGNW) manages the network in affiliation with Washington STEM, NW Washington STEM, and Skagit STEM to provide shared infrastructure and facilitate communications and resources on behalf of Whatcom STEM partners.
Technology Alliance Group for Northwest Washington (TAGNW) is a nonprofit organization located in Bellingham, WA. Our mission: Advocate for technology education, foster innovation, assist business and workforce development, and provide community for students, professionals, businesses, nonprofit organizations, and local government in Northwest Washington. We provide events, programs, and services to Strengthen Our Technology Community. Foremost, we build relationships and infrastructure in our community to do the things we do better together.
Learn more about TAGNW and Whatcom STEM at our websites: tagnw.org and whatcomstem.org. For inquiries, please contact Michael Gan, TAGNW Executive Director at director@tagnw.org or 360-312-7105. Join us at the TAG Community Hub for open discussion. All are welcome.
Online meeting!
While we continue to social distance, we'll meet online using the free open source videoconferencing system, Jitsi. Meet us at 7pm at https://meet.jit.si/BLUG-October-2020 .