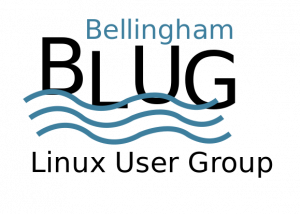 BLUG was started in 1998 by a small group of computer geeks in Bellingham, Washington who wanted to get off Windows and learn from local Unix gurus.  Our focus is on Linux and all Open Source software.
We hold a presentation meeting the first Thursday of the month at Bellingham Technical College in Campus Center room 201 (CC201). On the second Thursday we hold an informal organization meeting with the time and location announced on our mailing list. We also put on special events including the regional LinuxFest Northwest in the Spring.
CANCELLED: (virtual)BLUG meeting 3/4: James Mason – Atari VCS
03/04/2021 at 07:00 PM
Cancelled Rescheduled from Feb 11 to March 4
Meeting Includes…
BLUG/LFNW & Linux News, Q&A, and a presentation by James Mason on the new Atari VCS .
James' Presentation:
In 2020, Atari released the new VCS game console[1], 2½ years after the start of their crowd funding campaign[2]. While the new VCS will satisfy retro gaming enthusiasts, with its built-in store of 100 classic Atari arcade and console games, it also promises to provide an exciting new development platform for gaming.
The VCS is powered by Linux, running a Debian derivative OS on top of AMD hardware. One strong distinguishing factor from other game consoles is the acknowledgement that gaming consoles are PCs too: the Atari OS is designed to dual boot with another OS on internal or USB storage, and the base OS ships with Google Chrome preinstalled alongside games and other streaming service apps.
Let's spend an hour diving into the hardware specs, the interesting open source options for the VCS, and of course stream some retro video games 😀
[1] https://atarivcs.com/
[2] https://www.indiegogo.com/projects/atari-vcs-game-stream-connect-like-never-before
Online meeting!
While we continue to social distance, we'll meet online.
Meet us at 7pm at https://meet.google.com/aqh-ckxp-tne